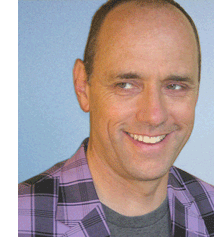 After graduating college with a degree in math, I naturally thought it would be a good idea to go to New York and become an illustrator. Drawing storyboards for some of the top advertising agencies was fun, but I felt my creativity and sense of humor were more suited to a career as an art director. In New York, I worked on accounts such as Alfa Romeo, Amoretto Di Saronno and Sterling Optical. After pulling up stakes and moving to Philadelphia in the late 80's, I worked at various agencies on accounts such as State of Pennsylvania tourism, Friendly's Restaurants and SEI investments.
Just about the time the web was really hinting it was going to stick around (circa 1997), I took a quick peek around my current agency and realized it didn't have an interactive department. So I started one and nominated myself as its first staffer.
I bring a strong design background to the creation of web sites and interactive media as well as a knack for site organization and programming. My abilities include all phases of web development, from planning and design to implementation and maintenance.
My current position requires me to work seamlessly with the creative, account services and IT departments. I keep myself and the interactive department up-to-date with the latest web design software, best practices and technologies.
---
Oh yeah, and I swim like a maniac at 5:30 in the morning, play left-handed guitar, and will jump through a screen door at the opportunity to go on a long walk with my two dogs and family.
Contact me and we can chat about common interests in the interactive advertising field, or we could just play Name That Tune. Either way I'd enjoy the experience.
---
One more thing about dogs. I'm passionate about them and their well being. If you're looking for happiness, pure and simple, look no further than a dog's eyes. My family and adopted both of ours from petfinder.com, the all-inclusive resource for rescued and adoptable shelter dogs.